Kast Of Kharacters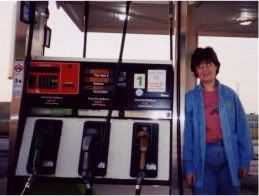 Name: Sue
Official Job Title: Day-Shift Manager
Unofficial Job Title: "The Help"
Greatest On The Job Achievement: Didn't hurl when sneezed on in the face by a man with a tracheotomy tube and a really phlegmy cold.
Also Known For: Writing entire novels between waiting on kustomers, coining the phrase, "The coffee is under the sign that says coffee," and defeating 300lb. garbage bags that don't want to be lifted out of the cans.
Blog Duties: Primary writer of wrongs.
Brief Bio: Lured in by a combination of joblessness and the offer of free cappuccino, Sue has been the face behind the cash register from 6am-2pm since November 1998. In her spare time…well, if she ever gets any spare time, she'll let you know what she does with it.
Name: Janet
Official Job Title: Night-Shift Manager
Unofficial Job Title: "Executive Assistant to the president" (aka: "You can call yourselves whatever you want as long as it doesn't cost me anything." – The Boss)

Greatest On The Job Achievement: Over 19 years on the job and has not killed a single person. Or maimed anyone. At least not seriously.

Also Known For: Incredible multi-tasking skills, as long as one of those skills involves being on the phone.

Blog Duties: Konsultant and Ko-author

Brief Bio: No one really knows how Janet came to work here. Rumor has it that it was before the invention of the internal combustion engine. It must have been very boring back then.
Please Check Back, This Section Is Still Under Construction I mean, Konstruktion.